Japan joins price cap on Russian oil products
Cargoes that were loaded before the restrictions kicked in will be exempted from the sanctions, the Foreign Ministry has said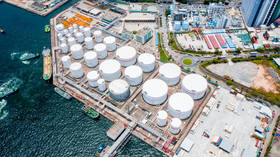 Japan has joined its Western allies by adopting measures limiting the price of Russian oil products, the Foreign Ministry announced on Monday.
The EU and G7 countries introduced two price caps on Russian imports which target refined products trading at a premium to oil and those which are sold at a discount. The agreed ceiling for diesel is $100 per barrel, and $45 a barrel has been set for discounted products such as fuel oil.
The mechanism went into effect on February 5, two months after the original $60 price cap on seaborne crude oil from Russia. The US, Australia, and other G7 countries have already adopted the measure as part of sanctions designed to limit Moscow's energy revenues amid the conflict in Ukraine.
"In connection with the current situation in Ukraine and as a contribution to the international efforts being made to solve this problem... Our country is introducing measures to ban the imports of crude oil and oil products produced in Russia above the marginal price," the ministry said.
Prearranged supply agreements for which loading was completed before February 5 will be exempted from the restrictions, the ministry added.
The price cap on petroleum products, as was the case with previous restrictions on Russian oil, prohibits Western shipping, insurance, and re-insurance companies from handling Russian cargoes unless they are sold at or below the set price.
Moscow has responded to the restrictions by outlawing the sale of oil and refined products to buyers that comply with the cap.
A decree barring deliveries of oil and petroleum products from Russia to countries that apply a price cap in their contracts came into effect on February 1, 2023 and is valid until July 1, 2023. It also prohibits deliveries if the contracts directly or indirectly mention the cap. The effective date of the ban on supplying petroleum products under the cap will be determined later by the government.
For more stories on economy & finance visit RT's business section
You can share this story on social media: