Russia-China trade to hit $200 billion target early – Putin
Turnover could surpass the goal ahead of schedule given the rate at which trade is growing, the Russian president says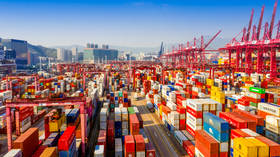 Trade between Russia and China soared last year and the $200 billion turnover goal set by Moscow and Beijing for 2024 could be achieved earlier than expected, President Vladimir Putin stated on Wednesday. The Russian leader was speaking at a meeting in Moscow with China's top diplomat, Wang Yi.
"We set a goal of reaching the level [of trade turnover] of $200 billion in 2024. Last year, it was already $185 billion, there is every reason to believe that we will reach our goals in terms of trade turnover, maybe even earlier than we planned," Putin said, adding that the expansion of mutual trade is important for both countries.
"I would like to note that Russian-Chinese relations are developing the way we planned in previous years. Everything is progressing, developing. We are reaching new milestones," the Russian leader stated.
Last year, trade turnover between the two nations grew by nearly a third. According to data from China's Customs Administration, the country exported $76.1 billion worth of goods to Russia in 2022, an increase of 12.8% compared to the previous year, while shipments from Russia to China surged by 43.4% to $114.1 billion.
The figures also showed that Russia was the leader among China's 20 largest partners in terms of trade growth in 2022. China has been competing with India as Russia's biggest buyer of oil, and has overtaken the EU as the top importer of Russian agricultural products.
Wang asserted that relations between Moscow and Beijing are strong and are successfully withstanding outside pressure, while noting that crises had offered opportunities to both.
"Our relations are not aimed at third countries, are not subject to pressure from third parties. We have a strong foundation in the economy, politics, and culture… Together we support multi-polarity and democratization in international relations," the diplomat said. Wang added that China is ready to strengthen strategic cooperation with Russia in any spheres that the two nations deem necessary.
For more stories on economy & finance visit RT's business section
You can share this story on social media: