China becomes top Russian food importer – report
Beijing has overtaken the EU as the largest buyer of Russia's agricultural products, according to new data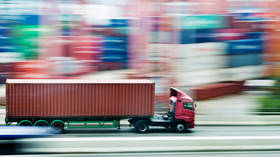 Imports of Russian agro-industrial products by China have continued to grow, jumping 44% last year, it was reported on Thursday. According to data from the Russian Ministry of Agriculture's Agroexport center, the physical volume of purchases increased by 36%.
"China regained its position as the largest buyer of Russian agricultural and food products, which was lost in 2021," Agroexport stated. Two years ago, the European Union was the leading importer of Russian agricultural goods.
China remained the leading importer of Russian rapeseed oil, poultry meat, beef, soybeans, oats, and flaxseeds. It was also the top buyer of Russian honey and linseed oil.
Preliminary data from the Federal Customs Service showed that over the past year Russian exports of rapeseed oil to China have doubled in physical terms. The East Asian country now accounts for almost 70% of all rapeseed oil exports by Russia.
Shipments of fish and seafood have also increased significantly, with the total volume exceeding 500,000 tons.
Data showed that almost 140,000 tons of poultry meat was delivered to China last year, which is 11% more than in 2021. In monetary terms, the growth rate was 53%. "China has retained its leadership among buyers of Russian poultry meat. Around 40% of the total physical volume of Russian poultry meat exports last year came from this country," Agroexport wrote.
It added that Russia has the potential to further expand food supplies to China. Agroexport indicated that the most promising categories for export are fish and seafood, cereals, meat products, and vegetable oils.
For more stories on economy & finance visit RT's business section
You can share this story on social media: