Russia-China trade set to hit 2024 target early
Turnover is approaching the $200 billion goal two years ahead of schedule, customs data shows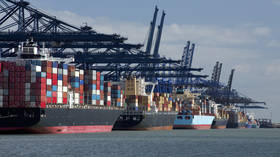 Trade between Russia and China soared by nearly a third last year to over $190 billion, according to data released on Friday by China's Customs Administration.
China exported $76.1 billion worth of goods to Russia in 2022, an increase of 12.8% compared to the previous year, while shipments from Russia to China surged by 43.4% to $114.1 billion.
In December alone, trade turnover between the two countries totaled $17.8 billion, according to the data.
The figures also showed that in 2022 Russia was the leader among China's 20 largest partners in terms of trade growth. Moscow and Beijing had previously set a goal of boosting mutual trade to $200 billion by 2024.
Speaking with Chinese leader Xi Jinping via video link last month, Russian President Vladimir Putin praised the strengthening of ties between the two countries, especially in the energy sphere.
"Despite the unfavorable external situation, illegitimate restrictions and direct blackmail by some Western countries, Russia and China managed to ensure record high growth rates of mutual trade… Today, we are already in second place in terms of pipeline gas supplies to China and in fourth place in terms of imported LNG [liquefied natural gas]," he said, adding that in January-November the volumes of agricultural turnover had also surged, by 36% to $6 billion.
The Financial Times earlier reported that by November 2022 China had become Russia's main trading partner, but at the time trade was complicated by the Covid-19 restrictions. Over the past two months, Beijing has relaxed some of the measures that had been negatively impacting trade, and analysts now expect volumes to grow further.
For more stories on economy & finance visit RT's business section
You can share this story on social media: