Russian crude exports soar ahead of output cut – Bloomberg
A sharp rise in supplies shows that all regions have increased oil flows, the outlet reports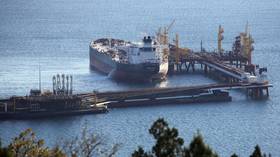 Shipments of Russian seaborne crude surged last week as buyers rushed to fill up stocks days before the world's third largest producer is due to slash oil output, Bloomberg reported on Tuesday.
Exports from Russia's Baltic, Black Sea, Arctic, and Pacific terminals jumped by 26% compared to the previous week, reaching a total of 25.2 million tons of crude or 3.6 million barrels a day in the seven days to February 17.
Earlier this month, Moscow announced it would voluntarily reduce oil production in March by 500,000 barrels per day, as it halts sales to buyers that comply with a Western-imposed price ceiling. Numerous Western analysts interpreted the move as unavoidable and a forced decision, although the flow data indicate that Russia's oil output cut was rather a policy of choice, Bloomberg claimed.
Large volumes of crude, including oil that previously went to Poland and Germany by pipelines, were shipped from Russian ports on European tankers.
According to Bloomberg data, volumes of oil destined for China, India, and Türkiye – nations that have not joined Western sanctions – and cargos that have not yet shown their endpoint reached 3.19 million barrels a day in the four weeks to February 17, representing the highest amount recorded since the outlet began tracking the shipments at the start of 2022.
Observations show that most of the cargoes currently identified as 'Unknown Asia', now carrying the equivalent of 603,000 barrels a day, will end up in India. Vessels categorized as 'Other Unknown', running at 813,000 barrels a day in the four weeks to February 17, could eventually emerge in Türkiye.
The outlet said that an increasing number of crude cargoes are being transferred from one ship to another in the Mediterranean for onward journeys to Asia.
Seaborne oil exports to European countries excluding Türkiye surged to 125,000 barrels a day in the 28 days to February 17, with Bulgaria the only European destination as it secured an exemption from Western sanctions until 2024.
An EU embargo on seaborne Russian crude went into effect on December 5 along with a $60 price cap on oil exports as part of the sixth package of Ukraine-related sanctions imposed on Moscow. The Russian government has forbidden any oil deals under the price cap scheme.
For more stories on economy & finance visit RT's business section
You can share this story on social media: