No sympathy for tycoons losing palaces and yachts abroad – Putin
Ordinary people remember the murky privatizations of the 1990s and the flaunting of riches by the new elites, the president has said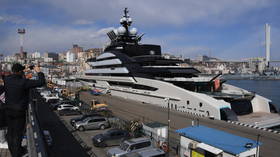 Ordinary Russians feel no sympathy for their rich compatriots who had their assets frozen by Western countries, President Vladimir Putin stated on Tuesday.
Addressing the Federal Assembly in his key annual program speech he argued that in their kitchen conversations ordinary Russians remembered both the privatization of the 1990s and the conspicuous consumption of the new elites.
"None of the ordinary citizens of Russia felt sorry for those who lost their capital in foreign banks. They didn't feel sorry for those who lost their yachts and palaces abroad," Putin stressed.
He recalled "imbalances" faced by the post-Soviet economy when Russia began to build the country again from scratch by aligning with the West.
"We were considered as a source of raw materials," Putin said, stressing that it took Russia years to break this trend. Meanwhile, instead of expanding production and creating jobs in Russia, the wealthy "elite" spent money on luxury goods like yachts, mansions, and the education of their children abroad, Putin pointed out.
As a result, the image of the West as a safe haven for capital turned out to be "a fake" and everything was taken away from the oligarchs – savings, houses and also their yachts.
"They were simply robbed there and even legally earned money was taken away," the president said, adding that an attractive Western lifestyle turned out to be an illusion.
For more stories on economy & finance visit RT's business section
You can share this story on social media: