Switzerland looks to seize assets linked to former Ukrainian president
The government wants to confiscate more than $140 million dollars allegedly belonging to individuals close to Viktor Yanukovych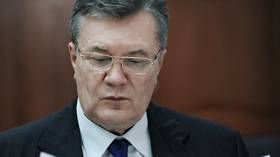 The Swiss government has launched proceedings to confiscate assets allegedly linked to former Ukrainian officials who served under ex-president Viktor Yanukovych, who was overthrown following the Maidan coup in 2014, according to an official statement on Wednesday.
The Federal Department of Finance has been instructed to initiate a series of proceedings with the Federal Administrative Court to seize more than 130 million Swiss francs ($140.89 million) of "illicit origin" linked to the entourage of the former Ukrainian leader.
The assets will remain frozen pending a final decision by the administrative justice system, the Swiss government said in a statement, adding that "any assets that are ultimately confiscated will be returned to the Ukrainian people under an international agreement."
Last year, authorities planned to seize more than 100 million Swiss francs ($104 million) worth of assets but following deliberations the sum was raised to 130 million francs.
The proceedings targeted in particular the assets of a former member of Ukrainian parliament, Yuriy Ivanyushchenko, who the Swiss authorities describe as a close confidant of the former president and his family.
The procedure for confiscating assets only applies in exceptional circumstances, Swiss officials said, adding that "the purpose of the proceedings is to determine in the specific circumstances concerned whether the assets are of illicit origin and can therefore be confiscated."
Switzerland also pointed out that the measure is not related to sanctions imposed on Russia over the conflict in Ukraine. The country currently holds 7.5 billion Swiss francs ($8.13 billion) worth of frozen financial assets belonging to Russian citizens, according to official data.
For more stories on economy & finance visit RT's business section
You can share this story on social media: