Switzerland rules out seizing Russian assets
A government working group has concluded that confiscating the funds would violate the country's constitution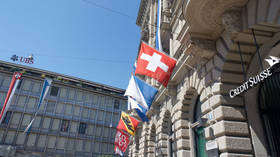 Switzerland does not plan to confiscate private Russian assets frozen in Swiss banks, the country's Justice Ministry said in a statement on Wednesday.
The idea of seizing the funds in order to use them for the reconstruction of Ukraine was assessed by a working group of the Swiss State Secretariat for Economic Affairs (SECO). The group came to the conclusion that the move would violate the Swiss constitution and the country's legal system, which forbid "expropriation of private property without compensation." The group stressed that the measure would also violate Switzerland's international obligations.
"The confiscation of frozen private assets is inconsistent with the Federal Constitution and the prevailing legal order and violates Switzerland's international commitments. Other countries have similar constitutional rights and guarantees," the Justice Ministry said in its statement, noting, however, that the country plans to continue to support Ukraine, "independent of the discussions on frozen assets."
The idea of confiscating the assets to help rebuild Ukraine has been discussed by Western countries for some time, but has come up against legal hurdles. Former head of Deutsche Bank Josef Ackermann recently warned that such a step by Switzerland in particular would jeopardize investor confidence in the Swiss banking system and result in the country losing its status as a global financial center.
Switzerland currently holds 7.5 billion Swiss francs ($8.13 billion) worth of frozen financial assets belonging to Russian citizens, SECO revealed last month.
Moscow has repeatedly called for the release of the blocked assets and warned against any move to seize them, saying it could create a dangerous precedent in international law. Russia would then have the right to confiscate foreign assets kept in the country in retaliation, according to the Kremlin.
For more stories on economy & finance visit RT's business section
You can share this story on social media: