Switzerland warned against seizing Russian assets
The move would undermine confidence in the country's banking system, according to the former head of Deutsche Bank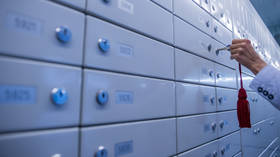 Former head of Deutsche Bank Josef Ackermann has warned Switzerland against confiscating Russian assets that have been frozen under EU sanctions, as the move would jeopardize investor confidence in the Swiss banking system.
In an interview with Blick news outlet, Ackermann likened the measure to "opening a Pandora's box." He said Switzerland could well lose its status as a global financial center if it chooses to formally hold individual Russian citizens responsible for the actions of their government.
"Then in future, citizens of other countries would also have to be afraid of investing money in Switzerland… Such a message would be devastating for the country as a financial center," the banker stated.
In his opinion, Switzerland needs to determine its own stance on the matter and not rush to emulate the actions of other Western countries.
According to Blick, around 7.5 billion Swiss francs ($7.9 billion) worth of Russian assets is currently frozen in Switzerland, along with 15 properties that belong to Russian citizens. The Swiss government is under increasing international pressure to release the frozen funds for the reconstruction of Ukraine. So far, Switzerland has not done so because there is no legal basis for the procedure. However, according to Ackermann, the Federal Council has not completely ruled out such a step.
The banker said that, in order to seize the funds legally, authorities would have to classify their owners as criminals. Ackermann warned against such a move, noting that it would jeopardize the rule of law and property rights.
The notion of confiscating frozen Russian assets to help rebuild Ukraine has been discussed by Western countries for some time. According to media reports, US Attorney General Merrick Garland last week announced the first transfer of frozen Russian assets toward aiding Ukraine. The funds in question belonged to Russian businessman Konstantin Malofeyev.
Moscow has repeatedly warned against such actions, saying that they may create a dangerous precedent in international law. Vyacheslav Volodin, the speaker of the State Duma, Russia's lower house of parliament, last month warned that if its assets were seized, Russia would have the right to confiscate foreign assets kept in the country in retaliation.
For more stories on economy & finance visit RT's business section
You can share this story on social media: