Russia may seize assets of 'scoundrels' – Duma speaker
The measure would only affect those abroad who "throw mud" at the Russian state, Vyacheslav Volodin says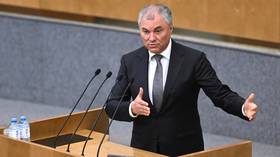 Russian lawmakers are looking at the possibility of seizing the property of citizens who fled the country following the outbreak of the Ukraine conflict and are badmouthing their nation from abroad, State Duma Speaker Vyacheslav Volodin has said.
Speaking during a parliament session on Tuesday, Volodin refuted criticism that the measure was "excessive," insisting that it would only be used against "scoundrels who broke the law, who did harm."
The legislation would target people who fled abroad and tarnish Russia, while continuing to make money in the country, the speaker explained. "They have real estate here, bank accounts, businesses, but at the same time they're throwing mud at the country, wiping their feet with it," he said.
"They usually can't be reached with other punitive measures" because they're outside the state, but they still "must be held accountable" for their actions, Volodin insisted.
"And, of course, it's possible to adopt changes to the legislation in order not only to stop them, but also to protect the memory of those who sacrificed their lives defending our Fatherland," he added.
The speaker emphasized that citizens who moved abroad "to wait out what they believe to be difficult or turbulent times, but at the same time behave correctly," shouldn't be affected, despite such behavior "not painting them in the best light."
A number of opposition politicians and celebrities have left Russia since the outbreak of the conflict between Moscow and Kiev in February last year. Some have been increasingly critical of the Russian authorities, with their comments often quoted by the Western media.
Earlier this month, actor Artur Smolyaninov, who now lives in Latvia, made headlines by telling Novaya Gazeta that he was prepared to fight for Ukraine. "I feel nothing but hatred for the people on the [Russian] side of the frontline. And if I were there on the ground, there'd be no mercy," he said.
This and similar statements have led to Smolyaninov, who made a name for himself by starring in patriotic film 'Devyataya Rota' (The 9th Company), being designated a foreign agent in Russia.
You can share this story on social media: