China says it can now power almost every home with clean energy
Despite increased renewable capacity, the country will still need more oil and gas to grow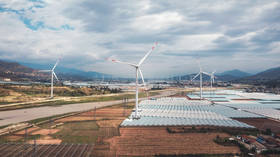 China's wind and solar power generation surged last year and is now almost equal to household demand for electricity, the National Energy Administration (NEA) announced on Monday. However, the share of residential intake is only a fraction of overall consumption, meaning that the Asian country is still heavily reliant on fossil fuels.
In 2022, wind and solar energy production soared 21% to 1,190 terawatt-hours (TWh) of electricity, according to the NEA.
Despite the surge in Chinese wind and solar power installations and generation, only 17% of electricity use in the country was classified as residential in 2020, while industry accounts for around 60% of all electricity demand, according to the International Energy Agency.
Beijing is ramping up the rollout of solar and wind capacity in line with its ambitious plans to produce 33% of its electricity from renewable sources by 2025 in order to reduce carbon emissions. At least 30 Chinese provinces have unveiled more renewable installation programs.
In December, China launched a massive clean energy project worth more than $11 billion in its seventh-largest desert in the province of Inner Mongolia. The solar and wind power base with an overall installed capacity of 16 million kW will be the world's largest renewable electricity generation facility of its kind in a desert area, according the company in charge of its construction.
However, some economists warn that this year, the Chinese economy will expand much faster after lifting Covid restrictions, meaning that even with increased wind and solar capacity, the country will still need more fossil fuel-powered energy generation to keep its economy growing.
For more stories on economy & finance visit RT's business section
You can share this story on social media: