Russian oil production increased in 2022 – Bloomberg
Moscow has retained service competencies and developed its own expertise in drilling, data shows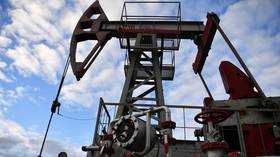 Russian oil companies achieved ten-year drilling records last year, showing no signs that international sanctions or the departure of some Western firms have harmed upstream operations in the country, Bloomberg reported on Tuesday.
Last week, Russia announced that it would voluntarily cut oil production by 500,000 barrels per day in March in retaliation to the Western sanctions. While many skeptics in the EU claim Moscow was forced into slashing oil output, industry data shows otherwise.
In 2022, Russian oil companies drilled a total depth of more than 28,000km, the highest in over a decade, Bloomberg wrote, citing industry records. The number of wells jumped almost 7% to more than 7,800, with most key oil companies beating their results for the previous year.
This comes as Western energy majors, including BP, Shell, and Exxon Mobil, accompanied by international service providers, pulled out of the country, leaving behind multibillion-dollar investments.
However, despite "comprehensive exports restriction on equipment, technology, and services for the energy industry" imposed by the West, the Russian oil industry "largely continues working just like before," the head of the research center at Business Solutions and Technologies, Vitaly Mikhalchuk, said. The analyst from the former Russian unit of consulting firm Deloitte & Touche added that "Russia has been able to retain most oil-service competencies, assets and technologies."
The share of major international service companies did not exceed 15% of the country's total oil-service sector in 2021, data from Vygon Consulting shows; units of domestic energy majors such as Rosneft, Gazprom, and Surgutneftegas make up the bulk of the market. Russian companies have also developed in-house expertise in upstream operations, a crude analyst at Kpler, Viktor Katona, said, adding that this has allowed Gazprom Neft to increase drilling in a major shale formation in Western Siberia.
However, key Western oil-service providers such as SLB and Weatherford International have continued operations in Russia. In July, SLB CEO Olivier Le Peuch said that "a unique corporate structure" allows his company to work in the country while fully complying with US and EU sanctions.
Russian oil production totaled around 10.9 million barrels per day at the end of last year and stayed close to that level in January, showing no evidence that the December EU ban on the country's crude imports caused problems, the outlet said.
While economists say it is too early to assess the impact of the recent EU embargo on Russian petroleum products, for which the bloc was once the largest market, figures show that processing rates at Russian refineries were up 2% month-to-month in the beginning of February.
For more stories on economy & finance visit RT's business section
You can share this story on social media: