Britons facing 'permanent' reduction in living standards – report
This year seven million households will be affected, economists have predicted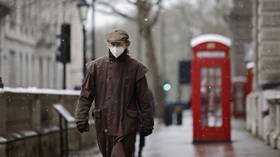 UK households are suffering a "permanent" decline in living standards as wages lag behind double-digit inflation and families struggle to pay their bills, the National Institute of Economic and Social Research (NIESR) has warned.
According to a forecast by the UK's oldest independent economic research institute released on Wednesday, 7 million households, which is the equivalent of one in four, will be unable to cover their energy and food bills once the government starts scaling back its subsidies program in April.
Energy prices remain high, while inflation is running above 10%, more than five times the Bank of England's 2% target. NIESR said the target will not be reached until the second half of 2025.
Grocery inflation alone soared to a new record of 16.7% in the four weeks of January, taking the average annual food shopping bill in the UK to £5,504 ($6,781), up £788 ($974) from last year, according to the latest research by Kantar.
NIESR economists warn that middle-income households will be hit hardest by the cost-of-living crisis. While the poorest families receive additional state aid, the middle classes will face a decline of between 7% and 13% in their disposable income, or as much as £4,000 ($4,800).
"What we've seen is that the shocks that have come along have progressively made us poorer per person," said NIESR director Jagjit Chadha.
Although the institute believes the UK will narrowly escape a recession, it predicts the country will see "anemic" growth of just 0.2% this year before GDP rises 1% in 2024 and 1.6% in 2025. For millions of households it "will certainly feel like a recession," NIESR warned.
"This malaise seems to be affecting large parts of the advanced world but on many measures the UK looks as though it's towards the bottom of performance and I think that's a great concern," said Chadha.
Earlier this month, the International Monetary Fund said that Britain will have the worst economic performance among other major industrialized nations, and will become the only G7 member to face a recession this year.
For more stories on economy & finance visit RT's business section
You can share this story on social media: