China's growth outlook revised higher
Fitch Ratings improved its forecast due to a faster-than-expected recovery in economic activity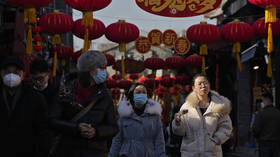 The Chinese economy will perform better than expected and is projected to grow 5% this year, Fitch Ratings predicted in a revised forecast published on Wednesday.
The growth prediction for the world's second-largest economy was raised from December's expectations of 4.1% due to "evidence that consumption and activity are recovering faster than initially anticipated" as Beijing lifted its stringent Covid-19 restrictions.
This comes after a weaker-than-expected performance last year, when the country's GDP grew by 3%, hampered by severe lockdowns. The ratings agency expects economic activity to be strong in the first half of the year, driven by a "swift rebound" from the pandemic.
"We believe stabilizing the recovery will remain the key focus in the near term, but do not anticipate aggressive macro-policy easing," the economists wrote in a release.
China's latest Purchasing Managers' Index (PMI), a measure of business activity for manufacturing and services, also soared, indicating growth.
The country's manufacturing PMI rose to 50.1 in January from a previous reading of 47, while its services PMI climbed to 54.4, the highest level since June 2022. A value above 50 indicates an expansion of economic activity, while a reading below points to a contraction.
UBS expects China's consumption to improve moderately, predicting that spending will be rather "cautious" due to strains in consumer confidence.
"With employment and household income still in need of recovery, consumer confidence may not recover completely but instead remain cautious," the chief China economist for the investment bank, Wang Tao, said in a note.
Excess savings of China's households are estimated to be worth 4 trillion to 4.6 trillion yuan ($590 billion to $678 billion), but according to UBS, these savings may not be spent this year.
"Further normalization of consumer behavior and more release of excess savings could help underpin future consumption recovery in 2024 and beyond," Wang added.
UBS expects China's household consumption growth to surge 10-11% in nominal terms and 7.8% in real terms in 2023.
For more stories on economy & finance visit RT's business section
You can share this story on social media: