BP joins Big Oil profit bonanza
The British firm has posted record earnings amid an energy price surge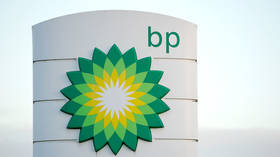 British oil major BP has reported record high annual profits in 2022, more than doubling its earnings amid soaring energy prices, the company announced on Tuesday.
According to the disclosed data, BP's underlying profits reached $27.7 billion in 2022, against $12.8 billion in the previous year. The earnings were the highest in the company's history. Its previous annual profit record was $26.3 billion, reached in 2008.
BP CEO Bernard Looney called the earnings a "good set of results."
"First of all, I hope you can see a company that is performing well, performing while transforming. We had our highest operations reliability in our history, we had the lowest production cost in 16 years, so the business itself is running very well," Looney told CNBC.
He also announced a new development strategy, which will include $8 billion in additional investment into energy transition in the next decade. The company said, however, that despite a previously stated goal to cut oil and gas production by 40% by 2030, it has downsized the target to 25%.
The earnings news sent BP shares up by more than 3.4% in early trading on the London exchange.
The company's results were in line with those of other energy supermajors whose profits also surged last year, including rival Shell. The latter reported its highest-ever annual profit of roughly $40 billion last week. US oil giant Exxon Mobil set a historic high net profit for the entire Western oil industry, posting a $56 billion profit for 2022, while another American energy major, Chevron, made a record $36.5 billion. France's TotalEnergies is expected to report its end-year results later this week.
The record-setting earnings by the world's largest energy companies have, however, renewed criticism of the industry for hoarding money while consumers suffer from soaring energy bills, and sparked calls for hiking windfall taxes.
"People across the country need look no further than their own front door – one of Britain's own oil companies – which has been making records profit while so many Brits face hardship through no fault of their own… BP is richer because you're poorer," Jonathan Noronha-Gant, from advocacy group Global Witness, told CNBC, calling for "implementing a windfall tax to aid those struggling financially."
For more stories on economy & finance visit RT's business section
You can share this story on social media: