British energy giant reports highest-ever profit
Soaring fuel prices bolstered Shell's earnings to a record $40 billion last year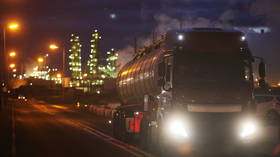 UK-based oil and gas major Shell posted a record-breaking $39.9 billion annual profit in 2022, while British households and businesses struggled with skyrocketing energy bills.
The company stated on Thursday that the figure far exceeded the previous record of $28 billion in 2008, and was more than double its 2021 profit of $19.29 billion. It also posted record fourth-quarter profit of $9.8 billion on the back of a strong recovery in earnings from liquefied natural gas trading.
"Our results in Q4 and across the full year demonstrate the strength of Shell's differentiated portfolio, as well as our capacity to deliver vital energy to our customers in a volatile world," said Shell's chief executive Wael Sawan.
The company also said it expects to incur around $2.4 billion in accounting costs related to windfall levies in 2022, and that it will pay $500 million in cash tax in the UK this year.
The report, however, sparked criticism and calls for a Big Oil windfall profit tax, as consumers have been grappling with the worsening cost-of-living crisis.
Paul Nowak, general secretary of the Trades Union Congress (TUC), described Shell's profits as "obscene" and "an insult to working families," stressing that windfall taxes should be increased.
"As households up and down Britain struggle to pay their bills and make ends meet, Shell are enjoying a cash bonanza. The time for excuses is over. The government must impose a larger windfall tax on energy companies. Billions are being left on the table," he said.
"Instead of holding down the pay of paramedics, teachers, firefighters and millions of other hard-pressed public servants, ministers should be making Big Oil and Gas pay their fair share," Nowak noted.
Shell's earnings report is the latest in a series of record-setting results by the world's largest energy companies, which have benefited from higher oil and gas prices.
On Tuesday, US oil giant ExxonMobil reported a $56 billion profit for 2022, marking a historic high for the Western oil industry. Earlier, another American energy major, Chevron, posted a record $36.5 billion profit for last year.
For more stories on economy & finance visit RT's business section
You can share this story on social media: