Goldman Sachs predicts imminent oil price surge
Sanctions on Russia, along with insufficient investment into production, will cause a "serious problem" next year, a top analyst has warned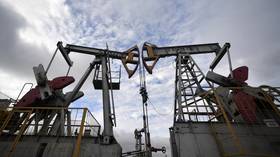 Oil will soar back above $100 a barrel this year, while dwindling global output and declining production in Russia due to Western sanctions may lead to supply problems in 2024, Goldman Sachs has warned.
According to the Wall Street bank's top commodity analyst Jeffrey Currie, who spoke on the sidelines of a conference in Saudi Arabia on Sunday, Western sanctions should trigger a slump in Russian oil supplies at the same time as recovering demand in China drives oil prices above $100. The current level is around $80.
"Right now, we're still balanced to a surplus because China has still yet to fully rebound," Currie told Bloomberg. "Are we going to run out of spare production capacity? Potentially by 2024 you start to have a serious problem."
According to the analyst, a lack of investment in the industry – needed to secure future oil production to meet growing demand – would be another factor contributing to price hikes. Currie predicted producers would tap into their spare capacity, leaving it lower than it was before. Eventually, this would lead to a serious imbalance between supply and demand.
"The commodity super cycle is a sequence of price spikes with each high higher and each low higher," Currie said. He warned that oil markets should flip to a deficit of supply compared to demand as early as by May this year.
Echoing Currie's remarks, Saudi Arabia's energy minister Prince Abdulaziz bin Salman also warned of the negative impact of Western sanctions against Russia on the global market, reiterating that OPEC+ would remain cautious in deciding when to ramp up output.
"All of those so-called sanctions, embargoes, lack of investments, they will convolute into one thing and one thing only, a lack of energy supplies of all kinds when they are most needed," he said.
Last year, OPEC predicted that global oil demand would continue to rise in the medium and longer term, even as the world moves to renewable energy, and that the industry would require trillions of dollars of investments to meet the demand.
For more stories on economy & finance visit RT's business section
You can share this story on social media: