EU embargo on Russian oil products kicks in
The measure is entering force along with a Western price cap on Moscow's refined petroleum products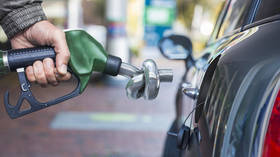 The EU has placed an embargo on Russian refined oil products, including diesel. The measure came into force on Sunday, February 5, and provides for a 55-day grace period for the fuel loaded on tankers before this date.
The ban follows previously introduced embargos on Russian coal and crude oil, and is aimed at further lowering the bloc's reliance on Russian energy and slashing Moscow's profits from energy exports.
The embargo has reignited warnings of diesel supply disruptions and price spikes across the bloc. The EU relied on Russia for about half of its diesel imports last year, some 700,000 barrels a day, and will now have to find alternate sources. At the same time, Russia will have to find new buyers for its fuel exports, and may be forced to cut production if this doesn't happen quickly, which would lower supply on the global market.
Meanwhile, diesel prices, which are currently around $110-$120 a barrel, may rise in the short term while the EU is securing supplies from new sources. However, later on, as many experts point out, the bloc may start buying processed fuel from countries still able to import Russian oil, with the cost of such products much higher than direct imports from Russia. The latter scenario may keep global diesel prices elevated for a long while.
"The system will find its equilibrium sooner or later. At a cost for everybody, of course," Dario Scaffardi, former CEO of Italy's Saras SpA oil refinery, told Bloomberg.
The EU ban coincides with a Western price cap on Russian petroleum products, which also came into force on Sunday. The measure sets a price limit of $100 per barrel for diesel, jet fuel and gasoline coming from Russia, and a $45-per-barrel price cap for other oil products that trade below the crude price, such as fuel oil used in industry. The fuel exports priced over these limits will be barred from getting insurance and shipping services from companies located in Western countries. The caps follow a previously introduced $60-per-barrel price ceiling on Russian crude oil.
Moscow has been opposed to any attempts to cap prices on its energy exports. Russia has banned crude sales to buyers that mention the price ceiling in their contracts. A similar restriction is expected to be introduced regarding the EU's latest cap on oil products.
For more stories on economy & finance visit RT's business section
You can share this story on social media: