Swiss firms planning return to Russia – survey
The initial exodus was prompted by Western sanctions pressure, according to Credit Suisse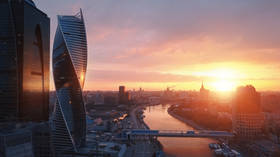 About 6% of large Swiss companies that have left Russia amid Ukraine-related Western sanctions plan to return in the next three years, according to a survey released by the Credit Suisse Research Institute.
The report indicated that around 4% of micro-enterprises, 3% of small- and 8% of medium-sized enterprises (SMEs), and nearly one in four large Swiss companies ceased business ties with Russia in 2022.
The confrontation between the West and Russia has ended the era of multilateral trade, at least for the time being, Credit Suisse wrote, noting that geopolitical tensions have posed challenges for Swiss firms.
Companies are affected not only by sanctions but also by customs duties and other non-tariff barriers such as government procurement regulations and approval procedures, it said.
"Unsurprisingly, the list of countries from which Swiss companies have withdrawn in the last three years is headed by Russia… Even so, a few of the big companies in particular are already planning to begin or resume business activities in Russia," the report stated, adding that "whether and when these plans will actually be implemented will depend on the further course of the Ukraine war."
The report also highlighted that foreign companies working with Swiss firms have generally opposed the adoption of anti-Russian sanctions by Switzerland. According to the survey, around 40% of the polled companies felt negative reactions from their business partners because of their support for the international sanctions against Moscow.
"The results of the survey illustrate the importance of maintaining neutrality for Swiss companies. More than three-quarters of the firms surveyed believe that maintaining Swiss neutrality is in the interest of their own company," wrote Credit Suisse.
The survey involved 650 Swiss companies, including 600 SMEs and 50 large companies. It is based on responses from executives whose companies do business with foreign countries.
For more stories on economy & finance visit RT's business section
You can share this story on social media: