EU country to export diesel made from Russian oil to Ukraine
Bulgaria enjoys an exemption from the EU embargo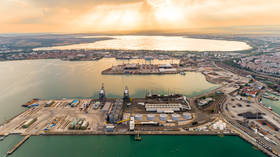 Bulgaria will supply refined oil products made from Russian crude to Ukraine, the Bulgarian government announced in a statement on Wednesday.
The country received an exemption from the EU on imports of crude oil and petroleum products from Russia via maritime transport until the end of 2024. It was also granted an exclusive right to export petroleum products derived from Russia's flagship Urals blend to third countries.
"This is necessary to limit environmental and safety risks, as such products cannot be stored safely in the country," the statement reads.
The derogation was due to expire on February 5, when a ban on EU imports of Russian petroleum products such as diesel and kerosene kicks in.
Bulgaria mainly exports gas oil, also known as red diesel, to Ukraine, accounting for up to 90% of all deliveries to the country, according to Euroactiv data. Diesel fuel is used in heavy industry to power machinery, generators and off-road vehicles, as well as in agriculture and maritime shipping.
The fuel is produced at the country's only refinery in Burgas, owned by Russia's largest private oil company, Lukoil. The plant operates mainly with Russian oil imported by tankers via the Black Sea.
From January to November 2022, Bulgaria exported €700 million ($769 million) worth of fuel derived from Russian oil to Ukraine, Euroactiv reported, citing data from the Bulgarian National Statistical Institute. The state body said the figure is 1,000 times more than overall fuel deliveries in 2021, which were valued at €750,000 ($823,840).
Bulgarian statistics show that Ukraine is now the country's third largest trading partner in terms of fuel supplies, having replaced the US.
Meanwhile Lukoil has denied the alleged deliveries, insisting that its refinery in Burgas does not supply any fuel to Ukraine.
"In connection with a new wave of speculative publications in the media, Lukoil once again states that it has no contracts and has not supplied its production to Ukraine from the plant in Burgas or through other channels in 2022," Lukoil told Russian news agency TASS.
The Russian company claims it sells the fuel to nearly 500 Bulgarian companies and does not work with Ukraine.
For more stories on economy & finance visit RT's business section
You can share this story on social media: