Russian industrial production withstands sanctions
Last year's output was similar to 2021, despite Western governments trying to damage the nation's economy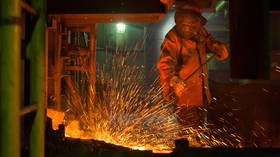 Russian industrial production held steady last year, nearly matching 2021 levels, according to official data. This is despite unprecedented economic sanctions imposed by the US, EU and NATO over Moscow's military operation in Ukraine.
Output was down only 0.6% for the full year, according to figures released on Wednesday by the Federal Statistics Service, Rosstat, beating the consensus of 0.7% predicted by economists in a Bloomberg survey. Industrial production this year will fare even better, rising an estimated 2% on gains in military-related industries, according to Alexander Isakov of Bloomberg Economics.
Surging military production has also helped Russia's industrial sector make up for the effects of Western sanctions in 2022. President Vladimir Putin said last month that Russia's defense industry was continuing to ramp up production, ensuring victory in Ukraine. "The defense-industrial complex greatly contributes to the dynamics of the manufacturing sector. Over the past year, it has seriously picked up steam and continues to increase capacity."
Overall industrial production fell 4.3% from a year earlier in December, but was 11% higher than November's rate, Rosstat said. For the full year, the country posted gains in key segments. Energy output rose 0.1% from 2021's level, including a 0.7% gain in oil and natural gas volumes. Electricity generation rose 0.6%, finished metal products advanced 7%, and food production climbed 0.4%.
Russian coal output rose 0.4% to 437 million tons, while LNG volumes jumped 8.1% from a year earlier. Output of medicines and other medical materials climbed 8.6%.
Segments with declines in production included chemicals, falling 3.8%, and textiles, down 8.3%. Wood and paper products dropped 9.1%. Metals production was down 0.8% on year. Only 450,000 passenger cars were produced in Russia last year, down 67%, as Mercedes-Benz, Ford Motor and other major international carmakers pulled out of the country.
President Putin said last month that Russian gross domestic product likely fell about 2.5% last year, outperforming expert predictions, reflecting a strong food harvest and other gains. Last March, one month after the Ukraine conflict began, the average analyst estimate in a Bloomberg poll predicted a 9.6% decline. The ruble is currently trading at 70 to the US dollar, around 10% stronger than where it stood before the sanctions began.
For more stories on economy & finance visit RT's business section
You can share this story on social media: