Amount of frozen Russian investments revealed
A scheme introduced last year allows companies to issue local 'replacement' bonds with ruble settlement to substitute Eurobonds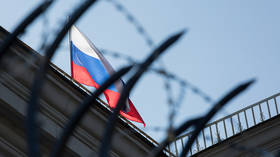 Nearly $81 billion in funds belonging to Russian investors have been blocked by Western financial institutions, according to estimates revealed by the Bank of Russia on Tuesday.
As of November 30 last year, the volume of frozen assets held at Western financial institutions totaled 5.7 trillion rubles ($80.8 billion). More than 20% of the funds are owned by retail investors, the regulator pointed out.
Last year, in an effort to minimize risks and protect investors, the Russian central bank banned brokers from executing trades for unqualified investors to purchase securities from so-called 'unfriendly' countries. The regulator has also imposed retaliatory restrictions on assets under Russia's jurisdiction owned by nonresidents.
Speaking at a conference on the global challenges facing Russian financial markets, the head of the central bank's investment department, Olga Shishlyannikova, stated that the frozen asset "story" is "very complicated" and will continue to have a negative impact on investors.
However, some solutions have been implemented, she noted. For example, direct payments of income from Russian securities trading in foreign markets to Russian investors were allowed.
Also, under a scheme introduced last year, Russian companies are able to issue local 'replacement' bonds with settlement in rubles to replace outstanding Eurobonds, a type of bond denominated in foreign currency. Russian issuers have experienced major difficulties servicing these bonds in light of Western sanctions.
"If all Russian Eurobonds are replaced, then retail investors will be able to withdraw more than 50% of their assets and start making use of those funds," Shishlyannikova explained.
The remaining assets are foreign securities from foreign issuers that have no direct connection with the Russian economy, she added.
Last September, Russia's National Settlement Depository applied to the finance ministries of Belgium and Luxembourg for general licenses in order to unlock the frozen assets. In December, a general license was issued to release certain frozen funds and economic resources belonging to non-sanctioned Russian investors. However, the Bank of Russia assessed the chances of Western countries returning Russian assets as "extremely low" despite the fact that they haven't been legally confiscated.
For more stories on economy & finance visit RT's business section
You can share this story on social media: