Energy giant warns of tight market in 2023
The shortage of Russian gas flows to the EU has already led to supply constraints in the LNG market, the TotalEnergies CEO says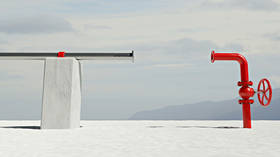 Supply issues will continue to affect the European gas market this year, due to the need to refill storages, as supplies from Russia are severely diminished, TotalEnergies СEO Patrick Pouyanne told Belgian news outlet L'Echo on Saturday.
According to Pouyanne, the current downward trend in energy prices will not last long.
"The winter is quite mild, the storages are full, Europe needs to import less liquefied natural gas (LNG). But the fundamentals remain there: in 2023, Europe will receive less Russian gas than it received in 2022. It will again have to massively re-import LNG, even though it has not yet settled its re-gasification capacity problems… And as Europe will need to import more than in 2022 when it received Russian gas for about half the year, the situation will become tense again," he warned.
The global LNG market already experienced a "violent shock" last year, as one eighth of it, nearly 50 million tons, had to be diverted to Europe to make up for the lost Russian supplies, Pouyanne said.
"It's a shock, Europe did it, but it paid more. The entire LNG market is now constrained by supply. And it will not loosen up before 2025-2026, because when you look at the new projects announced, in the United States and in Qatar, they will only go into production in a few years," the TotalEnergies СEO said, adding that in order to replace all the gas that the EU once received from Russia (100 million tons per year), it needs to double the amount of LNG it imported last year.
This may prove difficult not only due to existing supply constraints, but also due to the reopening of the Chinese economy, a major consumer of LNG, which will also boost LNG demand.
For more stories on economy & finance visit RT's business section
You can share this story on social media: