Global imports of LNG hit all-time high – data
The EU's race to replace Russian pipeline gas lies behind the unprecedented surge, according to Refinitiv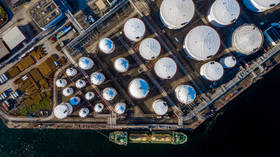 Imports of liquified natural gas (LNG) by global consumers in 2022 totaled 409 million tons, compared to 379.6 million tons in the previous year, according to data from Refinitiv, as cited by Reuters.
The record volumes were reportedly due to soaring demand, especially from the EU, which emerged as the premium market for the super-chilled fuel as it rushes to reduce supplies of Russian pipeline gas.
The region is estimated to have purchased around 25% of all LNG traded in 2022, winning the competition with Asian consumers, as European benchmark prices skyrocketed following the reduction of Russian pipeline supplies to most of the EU customers amid sanctions.
Last year, the EU's imports of LNG hit 101 million tons, marking a growth of 58% compared to 2021. Most of the European LNG purchases were boosted by sluggish demand in Asia, where China recorded an unusual decline in energy consumption due to a Covid-related slowdown in economic growth. Meanwhile, most of South and Southeast Asia could not afford the surging spot prices for gas due to growing EU imports.
The EU's rush to fill its gas storage facilities ahead of the cold season, as well as the region's sudden pivot to the liquified fuel, sent major ripples across an already tight global LNG market.
Despite the recent drop in the European benchmark gas prices, EU nations still attract most of the US shipments of LNG as demand in Asia remains weak.
For more stories on economy & finance visit RT's business section
You can share this story on social media: