South Korean coal and gas imports hit record high – media
The cost of the commodities soared in 2022 due to a major surge in global energy prices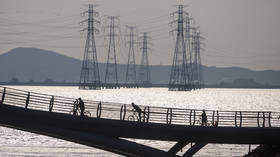 The cost of South Korean coal and gas imports reached record highs last year due to surging global energy prices, Yonhap News Agency reported on Thursday, citing the latest data from the country's Ministry of Trade, Industry and Energy.
In monetary terms, gas imports rose to $56.7 billion in 2022 – the highest since 1956 when the country's government started tracking the related data. The previous record of $36.6 billion was reported in 2014.
Meanwhile, the value of coal imports grew to $28.1 billion, reaching an all-time high as well and topping the previous record of $18.3 billion logged eleven years ago.
Oil imports increased to $105.8 billion last year, slightly short of the previous record of $108.3 billion set back in 2012.
The combined energy imports of South Korea, which depends on imports for most of its needs in this sector, soared by more than 40% to $190.8 billion, marking another all-time high.
The record growth in the value of energy imports came amid high global energy prices that had been boosted by growing demand related to preparation for the cold season, as well as supply disruptions.
Energy prices across the globe also soared as a result of sanctions imposed by the US and EU, along with their allies, including South Korea, on Russia – one of the world's major energy producers and exporters – after Moscow launched its military operation in Ukraine.
Australia became the top supplier of gas to South Korea, having shipped volumes valued at $15.3 billion last year. Australian exports accounted for 27% of the nation's total gas imports. Australia was followed by the US with $11.9 billion, Qatar with $8.5 billion, and Malaysia with $5.5 billion.
Australia was also South Korea's number one coal supplier with $12.4 billion, or 44.2% of the country's total coal imports, followed by Russia with $5.7 billion, Indonesia with $3.5 billion, and Canada with $2.6 billion.
For more stories on economy & finance visit RT's business section
You can share this story on social media: