Russian electricity exports to Asia surge
Moscow has stopped selling power to EU countries due to sanctions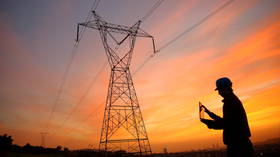 Russian energy giant Inter RAO boosted electricity supplies to China and Mongolia to record volumes last year, the company's CEO Boris Kovalchuk said on Wednesday.
Power exports from Russia to the EU were stopped last year. At that time, Inter RAO reported that consumers could not pay the company for the supplied electricity due to Western sanctions imposed on Russia.
"We completely stopped commercial supplies [of electricity] to the countries of the European Union starting June 2022. At the same time, we have substantially increased exports to China and Mongolia," Kovalchuk said at a meeting with Russian Prime Minister Mikhail Mishustin. He added that the company set a "historic maximum" in 2022 for electricity deliveries to these countries.
Earlier, Energy Minister Nikolay Shulginov stated that power supplies to China and Mongolia saw a significant jump last year.
"We can talk about the growth of eastbound [electricity] exports, that is, total exports to China and Mongolia have increased by 20%, and there will be an uptick of about 16% to China by the end of the year," the minister said.
The Russian energy giant supplies electricity to China from the Far Eastern Amur region under a long-term "cash and carry" contract. Inter RAO's data shows the volume of electricity supplies to China last year amounted to 3.97 billion kWh, which was 29.9% more than in 2020. Exports to Mongolia in 2021 surged to 0.49 billion kWh, up 55.9% in annual terms. China's electricity consumption rose in December due to increasing demand in colder weather.
For more stories on economy & finance visit RT's business section
You can share this story on social media: