Crypto-friendly El Salvador pays its sovereign debt dues
Head of state Nayib Bukele slammed international media for claims that the country is on the brink of default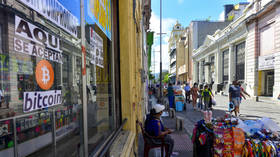 El Salvador has successfully made an $800 million government bond payment due this month, President Nayib Bukele announced in a Twitter post. Tuesday's transaction followed an earlier payment and included a $604.1 million bond payment and $23.4 million in interest, according Bukele's press office.
"Well, we just paid in full, $800 million plus interest. But of course, almost nobody is covering the story… They lie and lie and lie, and when their lies are exposed, they go on silence mode," President Bukele wrote, referring to multiple warnings in national and international media that the country may default on its obligations due to excessive reliance on cryptocurrencies.
Bukele's announcement followed a statement from Finance Minister Alejandro Zelaya, who also denounced the media's "disinformation campaign" about the state of El Salvador's finances.
Bukele, who calls himself "the CEO of El Salvador," championed the country's adoption of bitcoin as official currency alongside the US dollar in 2021. El Salvador became the first country in the world to legalize bitcoin as a means of payment. The move sparked widespread controversy, and prompted Fitch ratings to downgrade El Salvador's sovereign debt to "CC," which stands for a very high level of default risk, in September 2022.
El Salvador's government has been brushing off the warnings, however, and actively buying bitcoin, despite the drop in crypto prices following last year's bankruptcies and collapses in the sector.
Also, earlier this month the nation's Legislative Assembly approved a law regulating the issuance of digital assets, which will give El Salvador the ability to issue government-backed bitcoin bonds.
Analysts say El Salvador's ability to repay the bond was largely due to a last-minute $450 million loan it secured earlier this month from the Central American Bank for Economic Integration, as well as two recent bond buybacks. There are still concerns among investors regarding future bond payments, due to the nation's lack of a deal with the International Monetary Fund (IMF) and Bukele's approaching re-election bid in 2024. However, El Salvador's next major bond maturity is only due in 2025.
For more stories on economy & finance visit RT's business section
You can share this story on social media: