Switzerland threatens to seize Russian assets
The billions of dollars in funds could be used for rebuilding Ukraine, the Swiss foreign minister has suggested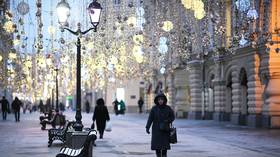 Frozen Russian assets in Switzerland could be confiscated to finance the reconstruction of Ukraine, the country's Foreign Minister Ignazio Cassis stated on Friday.
Switzerland has frozen 7.5 billion Swiss francs ($8.2 billion) worth of assets from sanctioned Russian citizens, which is only a fraction of the 150 billion francs ($163 billion) of total Russian holdings estimated to be in the country.
According to Cassis, those frozen assets can't be confiscated under current law, which would likely require a referendum to change.
"If we are serious about helping to rebuild Ukraine, we need to think about how we're going to finance that," Cassis told Swiss newspaper Tages-Anzeiger on Friday. Authorities in a number of countries are discussing such a step, he said, adding "but this must be done correctly under the rule of law."
The minister nevertheless noted that Bern "cannot just take money that doesn't belong to us just because we think this is morally right. The right to property is fundamental."
Though not an EU member, Switzerland has joined countries of the bloc in imposing several rounds of sanctions over Moscow's military operation in Ukraine. In August, Bern froze assets belonging to Russia's biggest bank Sber, and banned trade in gold products with Moscow. In response, the Kremlin has put Switzerland on a list of hostile countries, which includes EU members and other states that have imposed sanctions on Russia.
The EU and US authorities have been working on confiscating Russian assets frozen as part of the Ukraine-related sanctions, trying to find ways to make the seizures legal.
Meanwhile, Swiss banks have been very critical of the assets seizure proposal. An unidentified banker told the newspaper NZZ that disregarding property rights in such a way would undermine Switzerland's position as a financial center. Another banker called it the "death penalty" for Swiss banking.
For more stories on economy & finance visit RT's business section
You can share this story on social media: