US oil field giant takes over Russia business after peers exit – Reuters
SLB has increased revenues in the country despite Western sanctions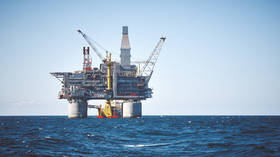 The world's largest oilfield firm SLB (formerly Schlumberger) has managed to boost its operations in Russia by cherry-picking service and equipment contracts from Western rivals that opted to leave the country due to the threat of Ukraine-related sanctions, Reuters reported, citing the company's papers and people familiar with the issue.
In March, the oil field giant announced immediate plans to suspend new investment and technology deployment to its Russia operations due to "immense concern" over the "escalating conflict in Ukraine."
Despite sharp criticism over SLB's continued embrace of Russia, the company has expanded activity in the sanction-hit country and significantly increased its revenues over the past year.
Its reservoir performance division in Russia and Central Asia grew revenue by 25% from July to December of 2022 compared to the previous quarter. That outpaced the 12% and 11% growth of its Asian, Middle Eastern, and North African regions, according to documents viewed by the agency.
US-based SLB, which changed its name from Schlumberger last October, also expects to record all-time high results for the fourth quarter for its Russian reservoir performance division, according to a separate presentation seen by Reuters.
At the same time, the company is not violating sanctions imposed by the US, the EU, and their allies, partly because the penalties targeting Russia's energy sector are not meant to completely halt oil output by one of the world's biggest producers.
SLB added some 70 employees in Russia late in 2022, including personnel for its key accounts, such as Gazprom and Rosneft, the agency cites two sources familiar with the matter as saying. The multinational remains a major foreign employer in Russia with some 10,000 workers, or around 10% of its global workforce, spread across Russia and neighboring Kazakhstan.
Russia accounted for 6%, or $1.21 billion, of the total revenue of the Curacao-registered company in the first nine months of 2022, according to a regulatory filing. SLB is expected to ramp up business operations in the country this summer.
A smaller US rival, Weatherford, has also opted to continue working in Russia, but its participation in the industry has reportedly been dwindling, as it has terminated some existing contracts that SLB has been able to pick up.
For more stories on economy & finance visit RT's business section
You can share this story on social media: