'Banned' Russian oil in high demand – Bloomberg
The fuel is reportedly being blended and re-exported from hubs like Singapore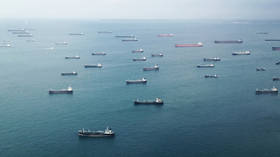 Demand has been soaring for oil storage tanks in Singapore due to a rise in interest and profits from mixing cheap fuel supplies from Russia with shipments from other suppliers, Bloomberg reported on Thursday, citing sources.
According to people familiar with the matter, this process can help to obscure the cargoes' origins.
The report indicated that Singapore hasn't banned the importation of Russian oil or petroleum products, however, financial institutions based there are prohibited from financing or dealing with Russian goods and companies.
Russian crude oil and fuel flows to Asia and the Middle East have been on the rise recently, Bloomberg wrote, adding that such shipments have "increasingly made their way to blending and redistribution hubs like Singapore and Fujairah in the United Arab Emirates where they can be co-mingled, repackaged and re-exported globally."
The trend of more Russia-to-Asia shipments and the growing role of hubs in their redistribution may further intensify in the coming weeks as the EU prepares to roll out new restrictions on Russian petroleum products on February 5, the outlet wrote.
Meanwhile, ship tracking data by Vortexa reportedly showed that Singapore's oil-receiving terminals took in more than double the volume of Russian naphtha and fuel oil in December as compared to a year ago. The city state received 2.6 million barrels of naphtha, nearly 40 times the volume taken a year earlier, said the report.
According to William Tan, senior vice president at Singapore-based marine fuel consultancy Miyabi Industries, traders and fuel suppliers are all over oil storage and blending plays right now due to "very good" profit margins from such activities.
That's due to the availability of very cheap supplies of Russian fuel oil and other products such as light cycle oil, Tan explained. According to his estimates, traders can enjoy close to a 20% profit margin by mixing Russian components with other grades to make blended fuel oil products. Typically, such profits stand at between 10% and 12%, he said, adding that margins could increase further if sellers get more desperate to offload their cargoes due to more trade restrictions.
"Some of this blended fuel may go into the bunker fuel in Singapore, or be traded off to nearby countries such as Indonesia and Vietnam," Tan said, as quoted by Bloomberg.
For more stories on economy & finance visit RT's business section
You can share this story on social media: