Ruble and yuan dominate Russia-China trade – Lavrov
Moscow and Beijing are trying to rely less on Western financial instruments as their relationship grows stronger, Russia's foreign minister says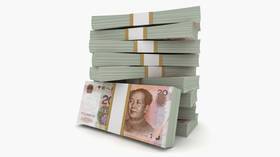 Half of the trade turnover between Russia and China is conducted in national currencies and their share is growing rapidly, Russian Foreign Minister Sergey Lavrov announced on Wednesday.
Speaking at a press conference on the results of the activities of Russian diplomacy in 2022, Lavrov stated that without "moves that could undermine our relations" and harm market players, Russia and China are cutting back on dependence on "Western instruments and unreliable partners."
In recent years, Russia and its trade partners, including India and China, have been ramping up the use of domestic currencies in mutual settlements in an effort to move away from the US dollar and the euro.
The countries achieved unprecedented levels of cooperation last year, with China becoming Russia's main trading partner by November despite Covid-19 restrictions in the Asian country, the Financial Times reported.
Trade between the two nations soared by nearly a third in 2022 to over $190 billion, according to China's Customs data, and may reach a target of $200 billion two years ahead of schedule.
China exported $76.1 billion worth of goods to Russia in 2022, an increase of 12.8% compared to the previous year, while shipments from Russia to China surged by 43.4% to $114.1 billion. In December alone, trade turnover between the two countries totaled $17.8 billion, the data showed.
Economists expect trade volumes to grow further after Beijing lifted Covid restrictions that had been negatively impacting commerce.
For more stories on economy & finance visit RT's business section
You can share this story on social media: