Russian oil selling below Western price cap – finance ministry
The average price for Urals blend over the last month was below $50 per barrel, government sources tell media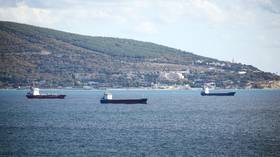 The average price for Russia's Urals oil blend was $46.82 per barrel, or $341.8 per ton, between December 15 and January 14, business daily RBK reported on Monday, citing the Russian finance ministry.
That's below the Group of Seven's (G7's) $60 price cap on Russia's largest crude oil export. That's also almost half the price of international benchmark Brent crude, which was trading at above $85 a barrel on Monday.
In December, the price of Russian oil reportedly dropped by a quarter compared to the previous month after the European Union, G7 nations and Australia introduced the $60-per-barrel price cap on Russian oil on December 5. The measure came on top of the EU's embargo on imports of Russian crude by sea and similar pledges by the United States, Canada, Japan and Britain.
According to RBK data, in December the average price of Urals was $50.47 per barrel, which is significantly lower than a year earlier, when Urals cost $72.71 per barrel. In November 2022, the average monthly price of a barrel of Urals was $66.47.
Experts have noted the Western cap, which was part of the latest round of anti-Russia sanctions, will have little immediate impact on Moscow's oil revenues. Oil and gas exports are forecast to account for 42% of Russia's revenues this year at 11.7 trillion rubles ($172 billion), according to the finance ministry, up from 36% or 9.1 trillion rubles ($133 billion) in 2021.
Meanwhile, Russia has banned all oil sales to countries which apply a price cap in their contracts. The Kremlin vowed to respond to the measure in a way that would best serve Moscow's interests, warning it would not trade with nations that support the price ceiling.
Deputy Prime Minister Aleksandr Novak said earlier that Russian oil will still be in high demand despite the latest sanctions on the country's exports. By imposing a price cap, Western countries will only trigger further energy inflation due to scarce supply, the minister warned, adding that Russia views such types of non-market mechanisms as unacceptable.
For more stories on economy & finance visit RT's business section
You can share this story on social media: