Putin bans all oil sales to 'price cap' states
The move is in response to a Western coalition price-limit on Russia's seaborne oil exports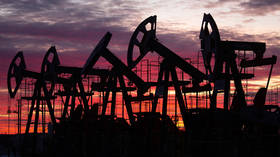 President Vladimir Putin has signed a decree on retaliatory measures to the West's price cap on Russian oil exports. Tuesday's ratification is in response to the punitive measure taken by the EU, G7 countries, and Australia, which came into effect earlier this month.
The presidential decree bans the supply of oil and petroleum products from Russia to countries which apply a price cap in their contracts. It also prohibits deliveries if the contracts directly or indirectly specify the cap.
According to the decree, which was published on the government's website, the ban on oil supplies in response to the price cap comes into effect on February 1, 2023 and is valid until July 1, 2023. The effective date of the ban on supplying petroleum products will be determined later by the government.
The president can grant special permission for the supply of oil and oil products prohibited by the price ceiling, according to the decree. The Russian Ministry of Energy will monitor compliance with the presidential order on retaliatory measures.
The $60-per-barrel price cap on Russian seaborne oil exports was introduced by the EU, G7 countries, and Australia on December 5. It bans Western companies from providing insurance and other services for Russian oil shipments unless the cargo is purchased at or below the set price.
The Kremlin vowed to respond to the measure in a way that would best serve Moscow's interests, warning it would not trade with nations that support the price ceiling. Deputy Prime Minister Aleksandr Novak said that Russian oil will still be in high demand despite the latest sanctions on the country's exports. By imposing a price cap, Western countries will only trigger further energy inflation due to scarce supply, the minister said, adding that Russia views such types of non-market mechanisms as unacceptable.
For more stories on economy & finance visit RT's business section
You can share this story on social media: