Gas market to remain volatile for years – Qatar
Diversification efforts will help, but Russian gas will eventually return to Europe, the energy minister says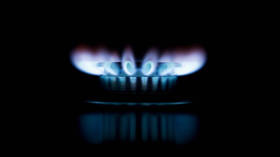 Global natural gas markets will remain unstable for the next several years due to a shortage of supply amid rising demand, Qatar's energy minister and head of QatarEnergy, Saad Al Kaabi, said at an Atlantic Council conference in Abu Dhabi on Saturday.
According to Al Kaabi, despite the current drop in European gas prices, largely due to mild weather, the region is likely to struggle to refill gas stockpiles for next winter given the lack of supplies from Russia.
"It's going to be a volatile situation for some time to come. We're bringing a lot of gas to the market, but it's not enough… Luckily [the EU] hasn't had a very high demand for gas due to the warmer weather. The issue is what's going to happen when they want to replenish their storages this coming year," he stated, adding that he does not expect any additional gas volumes to enter the market until at least 2027.
Al Kaabi believes that despite the efforts to diversify supplies, European countries will eventually return to Russian gas due to the lack of alternative sources.
"Russian gas will return to Europe when Russia and the EU somehow manage to resolve the situation, although the [European] countries will likely make their sources of hydrocarbons more diverse and stop relying on Russia 100%... But Russian gas is going back, in my view, to Europe, and it will be a great benefit for the gas sector and the entire European market, and help stabilize prices," he said.
Gas prices in Europe soared last year following the launch of Russia's military operation in Ukraine and the subsequent Western sanctions on Moscow. Until 2022, Russia had been the region's largest gas supplier. But now deliveries are greatly diminished and the situation is further exacerbated by an incident in September that rendered the Nord Stream 1 pipeline, a major route for Russian gas deliveries, inoperable.
The consequent surge in prices subsided towards the end of the year amid increased imports of liquefied natural gas (LNG) from countries including Qatar, and the relatively warm weather. However, prices remain far above historical averages and analysts say they could soar again once China fully reopens its economy after the pandemic lockdowns, raising global demand.
For more stories on economy & finance visit RT's business section
You can share this story on social media: