US warned of default
The Treasury Secretary says a debt limit hike is badly needed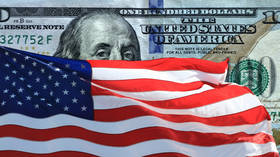 The US is expected to reach a statutory debt ceiling next week, which could see the country defaulting on its obligations unless preventative steps are taken, Treasury Secretary Janet Yellen warned on Friday in a letter to House Speaker Kevin McCarthy.
"Once the limit is reached, Treasury will need to start taking certain extraordinary measures to prevent the United States from defaulting on its obligations," Yellen wrote. She noted, however, that these measures will only go as far as to give the Congress time to negotiate and pass a debt limit hike, most likely until early June.
"The use of extraordinary measures enables the government to meet its obligations for only a limited amount of time…It is therefore critical that Congress act in a timely manner to increase or suspend the debt limit. Failure to meet the government's obligations would cause irreparable harm to the US economy, the livelihoods of all Americans, and global financial stability," the secretary stated.
The US debt is currently capped at $31.4 trillion. The ceiling was last lifted in December 2021.
There are concerns that the process of hiking the limit may be drawn out, as there are disputes over the move between the Republican and Democratic parties. However, following Yellen's letter, the White House said it would support an increase and urged Congress to act in a prompt and bipartisan way.
"We believe when it comes to the debt limit, it has been done in a bipartisan way over the years and decades, and it should be done, and it should be done without conditions… There's going to be no negotiation over it," White House press secretary Karine Jean-Pierre said Friday.
For more stories on economy & finance visit RT's business section
You can share this story on social media: