Risk of US recession increasing – Fed research
More American states are suffering economic declines, the St. Louis Federal Reserve Bank has warned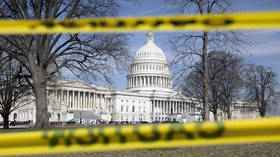 Just over half of states in the US are struggling with slowing economic activity, which could be a signal of a looming recession, according to new research from the St. Louis Federal Reserve Bank.
The December report pointed out that typically when 26 states demonstrate falling economic numbers, it offers "reasonable confidence" the nation as a whole will go into a recession.
Twenty-seven states had declining activity in October, which is enough to point to a looming downturn, the authors of the report said, noting that 35 states suffered declines ahead of a short and sharp recession seen in the spring of 2020.
The publication followed another report, from the San Francisco Fed, which also indicated rising risk that the US economy may fall into recession at some point in the coming months.
As that paper explained, unemployment rates bottom out and begin to move higher ahead of a recession in a highly reliable pattern. When this shift occurs, it signals the onset of a recession in about eight months.
The report noted that the US Federal Reserve is expecting the national jobless rate to rise this year to 4.6%, adding that if the Fed's forecast comes to pass, "such an increase would trigger a recession prediction based on the unemployment rate."
Economists have been raising concerns lately over the prospect of the US economy sliding downward mostly due to the Fed's forceful actions on inflation.
Federal Reserve Chairman Jerome Powell, however, said in December that he didn't view the regulator's current outlook as a recession prediction given the expectation that growth would remain positive.
"I don't think anyone knows whether we're going to have a recession or not and, if we do, whether it's going to be a deep one or not. It's just, it's not knowable," Powell said.
For more stories on economy & finance visit RT's business section
You can share this story on social media: