EU looks for targets in tenth round of anti-Russia sanctions
Brussels is working on the next batch of penalties, which will reportedly target Russia's nuclear industry and diamond trade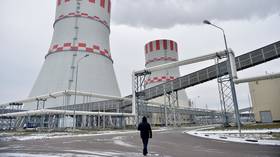 Poland and Lithuania are calling on the EU to impose restrictions on Russia's nuclear industry as part of the tenth package of sanctions against Moscow over the conflict in Ukraine, Reuters reported on Friday, citing senior diplomats from the two EU countries.
Kiev has repeatedly urged the 27-nation bloc to impose sanctions on Russian state nuclear energy major Rosatom, but the move has been blocked by Hungary and other EU members.
The Russian nuclear industry, which has so far gone unsanctioned, is essential for the operation of many power plants in Europe. According to the World Nuclear Industry Status Report, of the 53 reactors under construction globally as of mid-2022, 20 were being built by Rosatom, 17 of which are outside Russia.
In the eastern part of the EU, nations such as Bulgaria, the Czech Republic, and Hungary are heavily reliant on nuclear know-how from Russia to run the power plants that produce up to half of the electricity they need. Hungary has four Russian-built nuclear reactors and has plans for another two, to be built by Rosatom.
According to Reuters, the EU is mulling a proposal to blacklist Rosatom's leadership as a first step that should then result in curtailing the bloc's cooperation with Russia's nuclear industry.
Other penalties that have been floated – the EU is rushing to symbolically implement the measures by February 24 – include cutting more Russian banks off from the SWIFT global messaging system and banning more of the country's media outlets.
Meanwhile, a number of European officials, including Sweden's permanent representative to the EU, Lars Danielsson, admit that it is getting increasingly difficult to adopt new penalties against Russia.
One diplomat told Reuters that "it is more and more difficult to get the necessary unanimity in the EU for more sanctions."
In the tenth sanctions package, the EU will also reportedly propose adding diamonds to the list of banned Russian exports and expand bans on trade in goods that can be used for military purposes.
For more stories on economy & finance visit RT's business section
You can share this story on social media: