Britain and EU enter talks to settle Brexit disputes
The first signs of progress have emerged after the sides signed a data-sharing agreement on goods tracking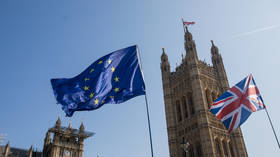 The EU and UK are gradually moving towards settling a longstanding post-Brexit trade dispute and are preparing to launch intense negotiations next week, Bloomberg reported on Thursday, citing people familiar with the matter.
On Monday, London struck an agreement with Brussels to share live data on trade with Northern Ireland, which was described as "a critical prerequisite to building trust and providing assurance" and laid "a new basis for EU-UK discussions."
British Foreign Minister James Cleverly and European Commission Vice President Maros Sefcovic said the deal was an important step towards further talks on the trading rules known as the Northern Ireland Protocol.
The dispute stems from the Brexit deal in which Britain agreed to leave Northern Ireland within the EU's single market for goods in order to preserve a 1998 peace deal between Northern Ireland, which is part of the UK, and EU member Ireland, thus avoiding instituting a land border between the two.
However, the UK has so far failed to implement parts of those agreements and in response the EU has opened several infringement procedures.
The aim of next week's talks between Cleverly and Sefcovic is to prepare the ground for a negotiating "tunnel," the outlet said, citing people who spoke on condition of anonymity. The CEO of Northern Ireland's Manufacturing NI, Stephen Kelly, who has been outspoken on a number of Brexit-related issues, expressed hope that the UK and EU would announce "a deep scoping exercise, deep conversation – what's traditionally known as a tunnel" after the meeting of the UK foreign minister and chief EU negotiator on January 16.
For more stories on economy & finance visit RT's business section
You can share this story on social media: