UK to suffer more than most this year — FT
Consumers reportedly face a "tough," "grim" and "miserable" economic outlook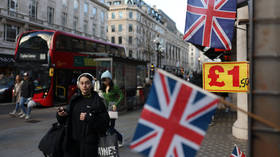 Britain faces one of the worst recessions among the world's leading industrialized nations this year, the Financial Times has reported, citing economists.
In an annual poll of 101 leading UK-based economists, the majority told the outlet that the fallout from spiralling inflation, triggered by the pandemic and the Ukraine conflict, will persist for longer in the UK than in other G7 nations, and the country's recovery will be one of the weakest. GDP will shrink for most of 2023, the government will have to run a tight fiscal policy, and the Bank of England will keep interest rates high, the report said.
John Philpott, an independent labour market economist, told FT that "the 2023 recession will feel much worse than the economic impact of the pandemic." Other respondents described the outlook for consumers – especially those on low incomes – as "tough," "bleak," "grim," "miserable" and "terrible," the outlet writes.
Inflation hit double digits in the UK last year, peaking at 11.1% year-on-year in October, the highest level for over 40 years. The BoE raised rates by a combined 325 points last year to their highest since 2008. The spike in consumer prices was attributed to the global surge in energy costs.
Other nations will suffer economically as well, as the IMF predicted last week that a third of the global economy will be in recession this year.
However, according to the Financial Times, even once the recovery is underway, Britain will most likely continue to lag behind other nations, as mistakes made by the government have exacerbated existing problems such as poor productivity, weak business investment, government neglect of public services, and damage to trade inflicted by Brexit.
For more stories on economy & finance visit RT's business section
You can share this story on social media: