Brits rush to buy energy-saving appliances – FT
The switch to air fryers and heat pump tumble dryers is reportedly aimed at lowering energy bills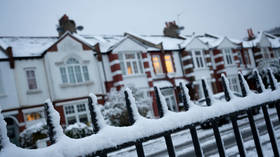 UK shoppers have been snapping up energy-efficient appliances in an effort to lower energy bills amid the worsening cost-of-living crisis in the country, the Financial Times has reported, citing retailers.
Consumers have been increasingly opting for devices such as air fryers and heat pump tumble dryers, as well as loft insulation for their homes, the report said. Sales of air fryers at Argos are up 420% so far year-on-year, while Currys is selling 18,000 to 20,000 air fryers a week, versus just 1,000 to 2,000 around the same period of 2021. Sales of microwaves, a cheaper alternative to ovens, are up 70%.
According to Andrew Gossage, managing director of the online domestic appliance retailer and supplier Ultimate Products, retailers have been "begging" for air fryer stock.
"The general softness of demand is being compensated for by these products with an energy-saving message," he explained.
The rush comes as British households are paying more for their food and energy bills as a result of skyrocketing inflation, which hit a 41-year high in October. Official statistics show food price inflation in October having soared to 16.5%, the highest level in 45 years.
Consumers across the country have reportedly also been looking to conserve heat, particularly given that the average home in the UK is outside of the top three rating bands for energy efficiency. Sales of loft insulation at the DIY chain Wickes are up 85% on the same period last year, statistics showed.
According to Naeem Adam, AO World's expert on large appliances, customers of the online domestic appliance retailer have been "opting up" to purchase items with a high energy rating, including heat pump tumble dryers, over lower-priced, entry-level appliances.
"The nation is becoming more mindful of their energy consumption and so whilst they realize that these models may cost more to purchase, the running costs over time will, in fact, save them money," Adam told FT.
For more stories on economy & finance visit RT's business section
You can share this story on social media: