Davos elite troubled by cost-of-living crisis
Governments should cooperate in tackling a mix of risks to prevent a major crisis, World Economic Forum experts warn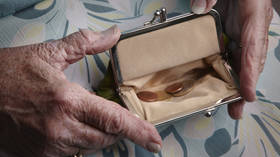 The cost-of-living crisis, looming recession and mounting debt are the biggest short-term threats facing the global economy, the World Economic Forum's (WEF) annual Global Risks Report has warned.
The world will hardly see any relief in the next two years as countries struggle with "energy, inflation, food and security crises," the annual survey of 1,200 government, business and civil society professionals, published ahead of the Davos summit, said.
Two thirds of respondents suggested that multiple shocks stemming from the recent Covid-19 pandemic and an ongoing conflict in Ukraine will cause distress to the global economy in the near future, while a fifth of the experts are forecasting "catastrophic outcomes" within a decade.
"We're looking at something that feels new, but at the same time eerily familiar," risk management leader for Continental Europe at Marsh, Carolina Klint, told CNBC. "So we see a return of some older risks that we felt we had made good progress in terms of solving, but are now very much back on the risk map," she added.
The cost-of-living crisis is seen as the most immediate risk which is "very difficult to accept" as it hits most vulnerable populations.
"Governments are now really working towards mitigating that impact, at the same time as they're trying to protect from spiraling inflation and servicing historically high debt loads," Klint concluded.
The authors of the report call for global cooperation and claim that if authorities fail to manage the current crisis, they "risk creating societal distress at an unprecedented level, as investments in health, education and economic development disappear, further eroding social cohesion."
WEF managing director Saadia Zahidi, who believes that the world might be entering a "vicious cycle," warns that "in this already toxic mix of known and rising global risks, a new shock event, from a new military conflict to a new virus, could become unmanageable."
The world could face a challenge of "polycrisis" in the near future, with overlapping problems, the report said, highlighting "resource rivalry" as one of the biggest threats, as countries have entered into global competition for natural resources.
For more stories on economy & finance visit RT's business section
You can share this story on social media: