Eurozone economy forecast to shrink – FT
The region is headed for a "severe recession," economists polled by the news outlet predict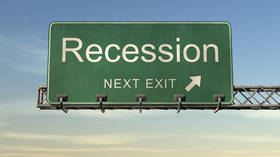 The lingering energy crisis is expected to cause further recession in the Eurozone this year, the Financial Times has reported, citing economists.
According to the report, prices in the region will rise by an average of over 6%, and the unemployment rate will increase from the current 6.5% to 7.1% by the end of 2023. High inflation and energy shortages will lead to a further decline in production and worsen the situation in the labor market. Subsequently, by the end of the year, the Eurozone economy will shrink by 0.01%.
"Gas markets in Europe remain a key risk. Additional supply disruptions, or a particularly cold winter, could lead to renewed tensions and prices rising again, forcing another round of adaptation and demand destruction," Chiara Zangarelli, an economist at Morgan Stanley, was cited as saying.
The energy crisis in the EU worsened over the summer when sanctions and technical setbacks led to the first interruptions in gas supplies from Russia. While most economists have said that Europe is past the worst of the energy crisis this year, many worry that the prospect of energy rationing could return next heating season, especially if the upcoming months are cold and cause increased tapping of gas reserves.
"The tail risk of gas rationing has likely been avoided for this winter, but the question of energy supply for the next winter is still open," Sylvain Broyer of S&P Global Ratings told FT. Another expert, Carsten Brzeski of ING Bank, said, "next winter will be even more challenging," as it will be much harder for EU countries to refill gas storage facilities without Russian supplies, even with more gas coming from Norway, the US, and the Middle East.
Economists are also worried about the outcome of further steps to stem inflation by the European Central Bank. Marcello Messori, an economics professor at LUISS University in Rome, warned that further interest rate hikes could "lead to a severe recession in the euro area."
For more stories on economy & finance visit RT's business section
You can share this story on social media: