World Bank slashes global growth forecast
The institution's analysts say the world is 'perilously close' to recession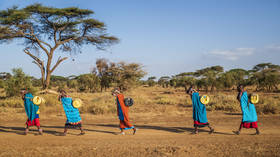 Growth of the global economy will reach just 1.7% in 2023, the World Bank has projected, slashing its outlook from last year by nearly half, citing broadly worsening economic conditions.
The Washington-based institution has cut nearly all of its projections for the most advanced economies. In June, its analysts predicted 3% growth for this year.
The massive downgrade was a result of drastic changes to the World Bank's expectations for the growth of the US economy. Now, US GDP is projected to increase by 0.5%, down from the earlier forecast of 2.4%.
"The United States, the euro area, and China are all undergoing a period of pronounced weakness, and the resulting spillovers are exacerbating other headwinds faced by emerging market and developing economies," the World Bank said in its latest report, Global Economic Prospects.
China's growth outlook was also slashed from 5.2% to 4.3%, while Japan is expected to demonstrate growth of just 1%, versus the previously projected 1.3%. The international development institution also cut its outlook for Europe and Central Asia from 1.5% to 0.1%.
"Global growth has slowed to the extent that the global economy is perilously close to falling into recession," the World Bank economists said, attributing the sluggish growth to an "unexpectedly rapid and synchronous" tightening of global monetary policy.
The estimates would signify "the third weakest pace of growth in nearly three decades, overshadowed only by the global recessions caused by the pandemic and the global financial crisis."
The World Bank analysts stressed that hawkish policies followed by monetary regulators across the world have "contributed to a significant worsening of global financial conditions, which is exerting a substantial drag on activity." They noted, however, that hiked key interest rates may have been necessary to tame soaring inflation.
For more stories on economy & finance visit RT's business section
You can share this story on social media: