IMF issues dire warning
Kristalina Georgieva says a third of the world economy will be hit by recession in 2023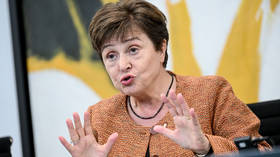 This year is expected to be even "tougher" than 2022 as the US, EU and Chinese economies slow down, according to the head of the International Monetary Fund (IMF).
The Ukraine conflict, soaring prices, hiked interest rates and unrelenting Covid in China will continue to exert an impact on the global economy, Kristalina Georgieva told CBS' Face the Nation program on Sunday.
"We expect one-third of the world economy to be in recession. Even countries that are not in recession, it would feel like recession for hundreds of millions of people," she said.
In October, the IMF slashed its outlook for global economic growth in 2023 citing the ongoing conflict in Ukraine, along with tougher monetary policies pursued by central banks around the world in an effort to rein in rising prices, including energy costs. Since then, Beijing has abandoned its zero-Covid policies, having begun to reopen the economy despite the rapid spread of coronavirus infections.
According to Georgieva, China will face a difficult start to 2023, as the world's second-biggest economy is likely to grow at or below global growth for the first time in 40 years.
"For the next couple of months, it would be tough for China, and the impact on Chinese growth would be negative, the impact on the region will be negative, the impact on global growth will be negative," the IMF chief warned.
When it comes to the US, Georgieva called the nation the "most resilient," adding that it might avoid recession with the labor market remaining quite strong.
"This is… a mixed blessing because if the labor market is very strong, the Fed [the Federal Reserve] may have to keep interest rates tighter for longer to bring inflation down," she said.
You can share this story on social media: