Head of South Africa's power utility alleges murder attempt
Escom CEO Andre de Ruyter told police he was poisoned with cyanide following his resignation in December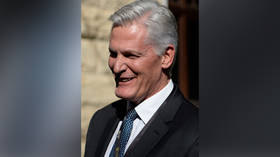 The outgoing CEO of South Africa's state power company Eskom, Andre de Ruyter, has told the country's police that he survived an alleged attempt to poison him with cyanide at the end of 2022.
The incident reportedly occurred on December 13, a day after he submitted his resignation as head of the utility in the face of political pressure, but before it was publicly known on 14 December. According to EE Business Intelligence (EEBI), de Ruyter became severely ill after drinking a cup of coffee allegedly laced with cyanide at his office in Johannesburg.
"De Ruyter became weak, dizzy and confused, shaking uncontrollably and vomiting copiously. He subsequently collapsed, unable to walk," EEBI said, adding that "he was rushed to his doctor's rooms by his security detail, where his condition was diagnosed as cyanide poisoning, and treated accordingly." The outlet also noted that "tests taken subsequently confirmed massively elevated levels of cyanide in his body."
De Ruyter took over as CEO in 2020 and led a company-wide crackdown on corruption in South Africa's state power utility, which had included sabotage of infrastructure at Eskom plants, local media reported. The company provides nearly all of the electricity in the country, where blackouts have been a regular feature for over a decade.
According to media reports, the outgoing CEO has also been trying to tackle alleged criminal syndicates that had been draining the state utility through the use of corrupt coal and other contracts.
"Eskom cannot comment further on the poisoning incident involving the group chief executive, which occurred during December 2022, as the matter is subject to police investigation," the company's head of security said in a statement.
De Ruyter confirmed to Bloomberg that he had filed a complaint with the police. He will remain in office until March 31 while his replacement is identified.
For more stories on economy & finance visit RT's business section
You can share this story on social media: