Argentina and China expand currency swap deal – media
The countries commit to expanding the use of the yuan on the Argentinian market for bilateral trade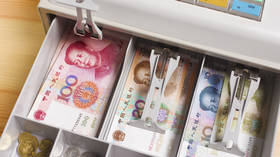 China and Argentina have formalized the expansion of a currency swap deal, Reuters reported on Sunday, citing the Central Bank of Argentina. The step is expected to boost the South American nation's drained forex reserves.
China is currently Argentina's second largest trade partner after Brazil, and the second biggest destination for Argentinian exports.
The currency swap agreement allows Argentinian companies that export to China to make settlements in yuan or dollars, which eases the outflow of foreign currency from the central bank.
Argentina's Central Bank Governor Miguel Pesce and his Chinese counterpart Yi Gang "confirmed that the deal for the swap of currencies between both institutions has been activated and committed to deepening the use of (the Chinese yuan) in the Argentine market," the statement seen by the news agency reads.
The chiefs of the Argentinian and Chinese monetary regulators met during the Bimonthly Meeting of Central Bank Governors hosted by the Bank for International Settlements (BIS) in Basel, Switzerland.
According to the document, the procedure "comprises the exchange of currency for reinforcement of international reserves of 130 billion yuan and a special activation of 35 billion yuan to compensate operations on the foreign exchange market."
The deal was announced in November after months of negotiations. Back then, Argentina's President Alberto Fernandez said it was worth $5 billion.
Argentina's government needs to rebuild reserves to cover trade costs and future debt repayments, as more reserves are a key objective of a major debt deal with the International Monetary Fund (IMF).
For more stories on economy & finance visit RT's business section
You can share this story on social media: