China setting new world energy order – FT
Beijing's cooperation with the Gulf states marks the emergence of the petroyuan, Credit Suisse told the outlet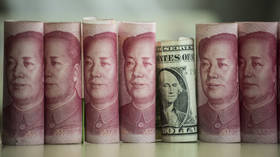 The global energy order is being reshaped as deepening energy ties between China and the Middle East signifies the rise of the petroyuan, which could challenge the petrodollar, the Financial Times reported on Wednesday, citing Credit Suisse analyst Zoltan Pozsar.
According to Pozsar, China has been boosting purchases of crude and liquefied natural gas (LNG) from Iran, Venezuela, Russia, and some African nations using its national currency. However, President Xi Jinping's meeting with the member states of the Gulf Cooperation Council (GCC) in December marked "the birth of the petroyuan," he said in a note to clients.
At the summit, the Chinese leader confirmed that Beijing is ready to make energy purchases in yuan instead of the US dollar with GCC countries.
"China wants to rewrite the rules of the global energy market," Pozsar said, adding that the move to de-dollarize the oil and gas trade is backed members of the BRICS alliance (Brazil, Russia, India, China, and South Africa).
According to the Credit Suisse analyst, the steps towards ditching the greenback in the energy trade have intensified in the wake of the sweeping sanctions imposed by Western nations on Russia, one of the world's major energy producers and exporters, in response to the military operation in Ukraine. Pozsar added that dollar foreign exchange reserves were militarized in the sanctions war, making the use of the currency unsafe for major exporters and importers of oil, gas, and other commodities.
Cooperation between China and the GCC may potentially involve joint exploration and production in places such as the South China Sea, as well as investment in refineries, chemicals, and plastics.
Pozsar said that implementing all of these projects in the yuan would mark a massive shift in the global energy trade. He added that even if it does not replace the dollar as a reserve currency, trading in the petroyuan will nevertheless come with significant economic and financial implications for policymakers and investors.
For more stories on economy & finance visit RT's business section
You can share this story on social media: