German property market plummets – report
A decade-long boom in deal-making has been slowed by a worsening economic environment, BNP Paribas says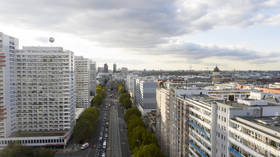 The real estate sector in Germany dropped in the last three months of 2022 due to the surging costs of financing and to record inflation in Europe's largest economy, a report published on Monday by BNP Paribas showed.
Investments in the country's commercial property sector slumped by 50% from October to December, compared to the five-year average for the period, and reached just €9.9 billion ($10.6 billion).
The sector took a strong hit as investors shied away from deals due to rising interest rates and an overall worsening economic environment in Germany, the survey results revealed.
Soaring costs "drove a wedge" between pricing expectations of buyers and sellers and "many large transactions that already were at marketing stage did not take place," the CEO of BNP Paribas Real Estate Germany, Marcus Zorn, said in the report. Zorn also expects the trend will persist for at least six months of this year.
The residential real estate market in the country is facing an even worse crisis, with its volume of deals having plummeted by 74% in the full year of 2022 compared to 2021, Bloomberg has reported, citing a separate report by BNP Paribas.
Real estate companies are struggling across Europe following a series of interest-rate hikes conducted in 2022 by the European Central Bank and other financial regulators in a bid to curb inflation. Tighter monetary policy has largely disrupted deal-making in the sector and brought to a halt a decade-long boom in asset prices.
For more stories on economy & finance visit RT's business section
You can share this story on social media: