Ship stuck in Suez Canal refloated
The accident comes less than two years after the Ever Given container ship blocked the vital waterway for nearly a week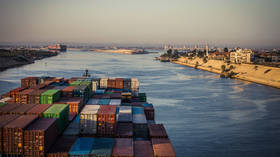 A container ship that ran aground in the Suez Canal on Monday morning has been refloated, the Leth shipping agency has reported, adding that traffic on the busy sea route was not affected.
Leth, which provides services to ships passing through the vital waterway linking Europe and Asia, said that tugs managed to get the MV Glory, which is sailing under the flag of the Marshall Islands, afloat.
"GLORY has been refloated by the Suez Canal Authority tugs," the operator wrote on its Twitter account. "21 vessels going southbound will commence/resume their transits. Only minor delays expected."
The accident occurred less than two years after the crucial trade route was blocked for six days by one of the world's largest container ships, the Ever Given. The incident left hundreds of ships stuck and reportedly held up $9 billion of global trade for each day of stoppage.
The 225-meter-long MV Glory has a deadweight tonnage of 162,804 tons. The 400-meter-long Ever Given's tonnage was around 181,097 tons, meaning that if fully laden, the MV Glory is about 89% as heavy as the giant vessel that blocked the shipping lane in March 2021.
Back then, the Ever Given became wedged lengthwise across the waterway, while the MV Glory grounded while joining a southbound convoy near Alaqantarah, according to Leth.
For more stories on economy & finance visit RT's business section
You can share this story on social media: