Germans urged to keep saving energy
The country has enough gas to last through winter, but has to prepare for the next heating season, its energy regulator says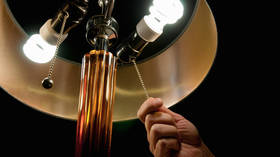 Germany has sufficient energy supplies for the rest of the heating season and the risk of a gas shortage has been overcome, the country's energy regulator has said.
"Despite all the remaining uncertainty, I don't expect anything else to go wrong this winter," Klaus Muller, head of the Federal Network Agency, told Bild am Sonntag in an interview published on Sunday.
"The gas storage facilities are more than 90% full – a remarkable value, as they were rarely this high in January. This is a great joint achievement by everyone who used gas sparingly," he continued.
"I now assume that the storage tanks will be more than 50% full by the end of the winter," Muller added, noting that Germany used 14% less gas in 2022 than the year before, largely due to the energy saving efforts of the population.
He highlighted a recent drop in gas prices and said "there is much to suggest that we have reached a gas-price plateau" after record increases in 2022, predicting that prices were likely to remain stable for the next year or two.
"Gas is currently costing the same as it did in December 2021 – mainly because Europe has successfully filled up its gas storage facilities and thus removed the basis for possible speculation."
The head of the regulator warned, however, that residents should not stop saving energy now, as the next heating season may be unpredictable.
"That would not only be very expensive, but also lacking in solidarity. In the end, increasing gas consumption also leads to higher gas prices for energy-intensive industries, which can lead to further price spikes," he warned.
"In addition, for every kilowatt-hour that we save now, we no longer have to buy expensively in the summer to refill gas storage tanks… We are now concentrating on next winter."
Muller added that three major risks remain: Next winter could be colder, China's recently lowered gas consumption may pick up again and heighten global demand, and Europe's gas infrastructure may suffer from an unforeseen crisis, like the attack on the Russian Nord Stream gas pipelines in September. The attack made the pipelines inoperable, cutting off one of the major routes for Russian gas deliveries to Europe.
For more stories on economy & finance visit RT's business section
You can share this story on social media: